Top Atlanta Tech News [March Edition]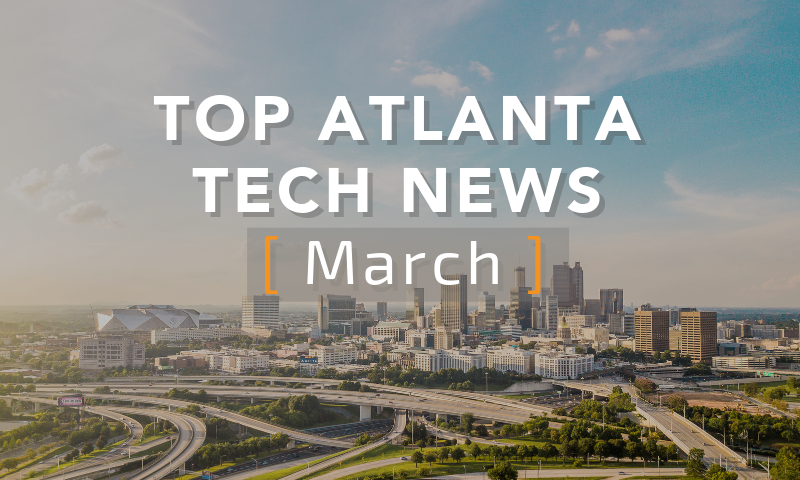 3Ci Weekly Tech Minute is a weekly installment of Atlanta's top tech news. Hosted by one of Atlanta's own tech experts, Titania Jordan, the Weekly Tech Minute is where our city's tech leaders and enthusiasts turn to receive up-to-date stories about Atlanta's buzzing tech scene.
Check out this roundup of the top Atlanta tech news from March.
Top Tech Stories
New Form of Personal Public Transit Could Be Whizzing into Atlanta
Is Georgia on track to resemble the Jetsons in the near future? Georgia officials are exploring autonomous micro transit pods that could transport residents high above traffic. Boston-based micro transit startup, Transit X, is pitching its solar-powered pod that would travel on thin rales above traffic at speeds of up to 150 MPH to Georgia officials. So far, six Georgia cities and counties have shown interest in this launch.
Samsung Redefines the Tech Curve With the Launch of Galaxy S10
The Samsung Galaxy S10 line hit stores this month. Some of the most interesting features of the Galaxy S10 include wireless power share (allowing you to use the phone as a wireless charger for a friend's phone, your earbuds, or smartwatch), a 123° ultra-wide lens that's as wide as the human eye (so what you see is what's in frame), the first-ever ultrasonic fingerprint scanner (embedded directly into the screen), and an intelligent camera with shot suggestions offering expert recommendations (so you can frame your photo better than ever). Exciting stuff, Samsung!
Atlanta Tech Village Launches the Third It Takes a Village Cohort
The Atlanta Tech Village It Takes a Village cohort # 3 launched this month. To date, the Atlanta Tech Village has graduated 21 startups that have raised a combined $435K in funding and $1.8M in revenue from their It Takes a Village Pre-Accelerator program. We are so excited to follow this classes' journey over the next 16 weeks! Check out the list of the ten startups right here.
Atlanta's First Smart Neighborhood Is Moving Forward
Atlanta's first smart neighborhood brought to you by Georgia Power and PulteGroup is officially entering phase one of development. Located in Atlanta's Upper Westside, this 46-townhouse development will flaunt all of the latest energy technologies including solar panels, in-home battery energy storage, voice-activated security, smart locks, and lighting controlled from apps. Georgia Power plans to gather data from the homes to analyze and provide insight into the effectiveness of emerging energy technologies.
First Data's Penny Collins Steps Into the Nonprofit World
A big congrats to First Data's Chief Technology Control Officer, Penny Collins, who has been chosen to serve as the new president and CEO of Atlanta nonprofit, Women in Technology (WIT). She will be providing strategic direction for the 25-year-old non-profit to help further WIT's impact in the community. Way to go, Penny!
A New Way to Getaround Atlanta
Getaround is a San Francisco based car sharing platform that lets users rent and drive their neighbors' cars. It puts a wide variety of cars at the fingertips of renters while empowering car owners to earn thousands in extra income. Cars can be rented by the hour or day with insurance and 24/7 roadside assistance included. Congrats to Getaround on their launch—we fully support their initiative to reduce traffic jams and improve air quality.
Atlanta Funding News
Roadie
On-demand crowdsource delivery startup, Roadie, raised $37M in Series C funding. According to Roadie's CEO Marc Gorlin, "Our model is a game-changer for retailers, wholesalers, and consumers who want same-day delivery of any item of any size to any zip code at any kind." Recent partnerships include Home Depot, Delta, and Walmart. They currently employ just over 60 people in their Atlanta headquarters and is hiring across engineering, data science, sales, and operations. Gorlin says they're committed to Atlanta, a city long recognized for its strength as a supply chain and logistics hub.
Ionic Security
Ionic Security, an Atlanta-based software company, raised $40M in Series E funding led by JPMorgan Chase & Co, Google, Kleiner Perkins, GV, Icon Ventures, Meritech Capital, TechOperators, and Ten Eleven Ventures. Ionic employes more than 200 in their midtown Atlanta headquarters. Their VP of Marketing, Sean Allen, says they're focused on filling a number of key positions across their go-to-market, engineering, and integration and enablement teams. The majority of these positions will be based in Atlanta.
Oncolens
Oncolens, a clinical decision software that focuses on cancer care, closed a $1.35M seed round lead by BIP Capital and Atlanta Technology Angels. Oncolens makes it easier for multidisciplinary teams and physicians to create and direct treatment plans for cancer patients. The seed funding will largely go toward expanding Oncolens' national footprint, enabling them to get their software into more health systems and cancer centers across the country. Keep up the work, Oncolens!
Companies on the Move
QTS
QTS filed plans to expand its Atlanta data center campus. Atlanta is among the fastest growing markets in the country for data center spaced. QTS currently operates a more than 900,000 square foot facility. Contributors Byron Small and Douglas Sams say plans identify the site of the new development at 1025 Jefferson Street and adjacent properties.
Kitty Hawk
Flying taxi startup backed by Google's Larry Page, Kitty Hawk, has landed on Atlanta as the place to recruit junior engineers that are interested in being at the forefront of the aerospace industry. According to Atlanta team lead Nate Fisher, the current Atlanta team of five will swell to about 20 by the time they move to a new office this summer. The city chose Atlanta specifically because of its strength in software talent.
LocatorX
LocatorX is a nanotech startup is bringing low-cost real-time tracking to physical assets. They moved from Jacksonville to Atlanta earlier this year to be closer to our city's large logistics hub and enterprises. The startup is in fundraising mode and plans to expand its team from 10 to 25 employees by year-end.
Mergers, Acquisitions, and More
OneTrust
Atlanta's OneTrust acquired London-based regulatory research platform, Data Guidance. The deal, which closed March 8, adds 50 employees and 350 customers to OneTrusts' footprint and integrates hundreds of privacy laws into OneTrust privacy management technology. Now, customers have access both actionable information about the changing legal and compliance frameworks around the world and tools to implement and monitor compliance according to those changes.
iAccess
iAccess picked up Best in Category at the SXSW Accelerator Pitch this month. They're working to revolutionize accessibility by developing a crowdsourcing application that allows users with mobility impairments to rate and review the accessibility of public venues and establishments. Their goal to encourage their users to seek new adventures, stress-free, through iAccess. They're looking forward to a big launch around May of this year.
LocatorX
LocatorX is a nanotech startup is bringing low-cost real-time tracking to physical assets. They moved from Jacksonville to Atlanta earlier this year to be closer to our city's large logistics hub and enterprises. The startup is in fundraising mode and plans to expand its team from 10 to 25 employees by year-end.
To stay up-to-date with all of Atlanta's top tech news, be sure to tune in every week by subscribing right here or via the 3Ci YouTube channel by clicking right below.
---
CONNECT is the brainchild of 3Ci — Atlanta's most innovative and progressive tech talent and training company. 3Ci believes in connecting mission and purpose while empowering the tech community.